Boarding
We offer boarding for dogs, cats, and exotics. There are a lot of boarding facilities out there and every place is a little different. We are happy to board any pet, but we are especially well equipped to help with animals that need medical care or need a little extra monitoring. We don't facilitate group walks/play at our clinic, but every animal gets individual walks, play time, and attention. Are you worried your pet might have a medical emergency while you are away? Is your pet very scared of storms and might need medication? Does your pet take a lot of medications or require an experienced person watching them for changes in behavior/appetite? Then we may be the place for you!
Availability
Monday through Thursday 8:30 am - 7:45 pm
Fridays 8:30 am - 3:45 pm
No weekend pickups.
Boarding Prices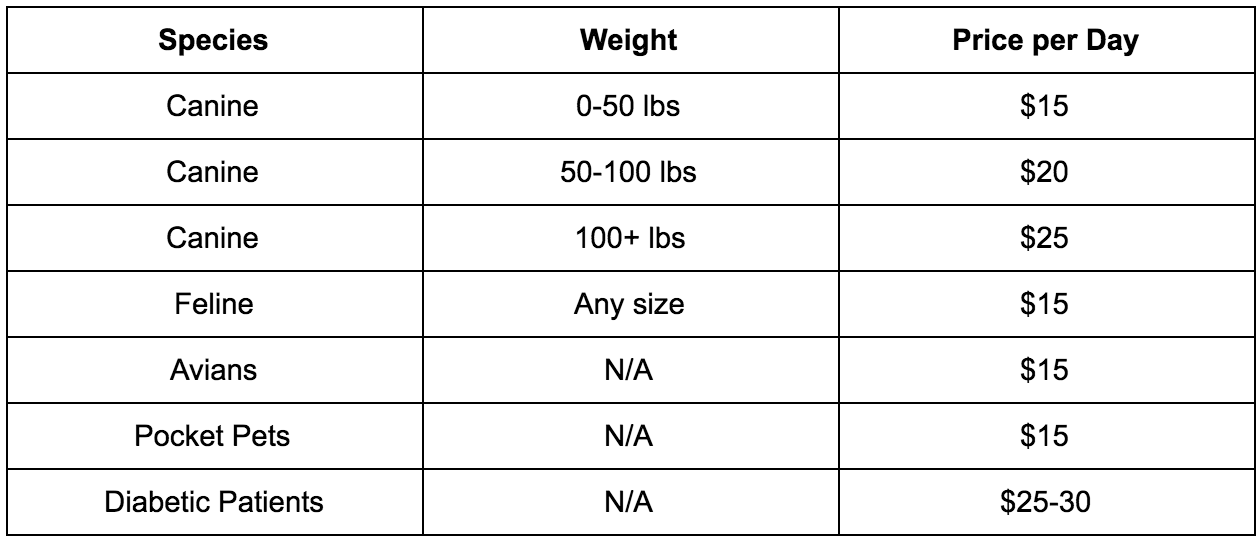 Boarding Extras

To help keep all of the pets safe, we do require that everyone is current on vaccinations. We are happy to update any of these, along with an exam, while staying with us.
Canine Requirements
Rabies vaccination
Distemper/Parvo vaccination
Bordetella
Negative fecal test in the last year
Feline Requirements
Rabies vaccination
Feline distemper
Negative fecal test in the last year
Exotics
Bring your own setup- enclosure, any heating/lighting, food, specialty water bottles
We are happy to help care for your pet, but there are too many species and varieties of enclosures for us to supply a set up for every exotic pet